Mazda Entertainment System
Jump to navigation
Jump to search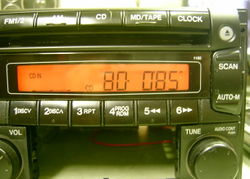 Late model Proteges and early Mazda 3s all used the same head unit with different plastic trim. The electronics are all the same, and are more sophisticated than a traditional stock head unit. Each peripheral that's attached to the radio communicates on a shared bus, this page serves to document the bus protocol.
Acknowledgements
For the time being I only have Mr. David O'Shea to thank for his original work on decoding most of the messages sent over the radio's bus. His work can be found here (archive), without it I don't know if I would have ever gotten this far. I've taken the liberty to re-post some of his work on this wiki so his information can grow.
Documentation
Here's what I've got so far, Enjoy!